How to effectively use the tool of AI with Digital Marketing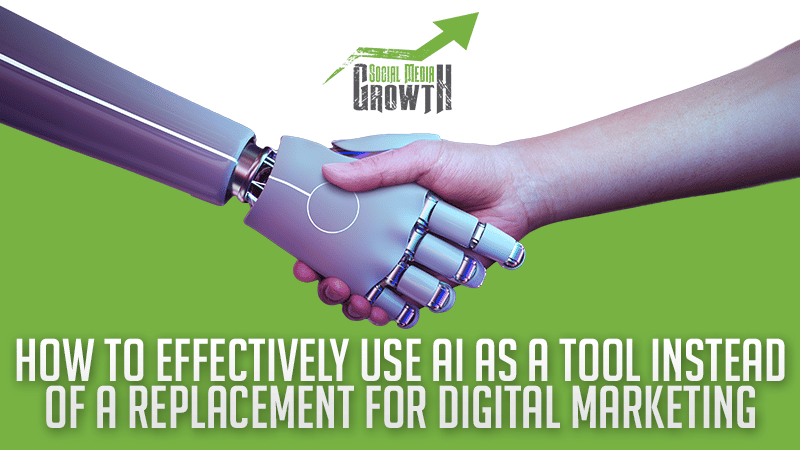 As AI technologies continue to grow and be a mainstream part of our everyday lives, they have already caused disruption in several industries. One area that has seen some initial trouble is content creation when it comes to digital marketing. There are numerous tools out there that are able to create text based content and even images through a generative process. This is why this type of AI with digital marketing is known as generative AI.


What is Generative AI?
The AI that we're discussing today has the name "Generative AI". It's a revolutionary way of producing new content by constantly learning from existing data sets and information. This means that as each day goes by and more information is discovered, the type of content will also continue to be refined.


That then leads to the question of whether this type of AI generative technology should simply replace digital marketing altogether?


Well, not really...there are still plenty of limitations when it comes to this technology. Without any further developments in this area, it will simply replicate content that all start to look the same. There's very little room for innovation, and it will begin mimicking content. Or worse than that, try to parse together unrelated content into an amalgamation that makes little to no sense.


Its popularity also occurred due to the fact that initially, it was a novelty and free for a limited period of time. Since then there are now costs associated with many of these AI tools. So without the right type of skillset these tools aren't receiving optimization.


Using AI with Digital Marketing as a way to enhance your strategy
Instead this type of generative AI can help with the repetitive foundational items and save time. Therefore your team can focus less on administration and more on what they should do. And that is produce eye-catching content to generate traffic and leads.


Always set clear goals ahead of time
Before jumping into generative AI tools, always ensure you have the overall plan, roadmap, and goals ready. Make sure that you can track these goals. Then when you fully understand your process, you can start to look at AI as a way to support and help you and the team.


Select the right type of AI tools
The growing number of tools can also be quite overwhelming. So you want to be able to take the time to do your research into what type of tools you will need.


Do you need text-based content creation or graphical content creation? Could you benefit from AI learning tools about automation and scheduling as well? A great type of automation is using chatbots that can handle more advanced questions and redirect users towards the sales process more often than having to always deal with a customer service agent.


AI with Digital Marketing Integration
Once you know your end-to-end marketing process, you should utilize AI to augment it. A great way of using AI is through the automation of tasks. This includes social media scheduling and sending out emails automatically. There are also a lot of AI tools out there that can focus on personalization. This includes the ability to build out niche target market groups for a more focused overall approach.


Always monitor the results
As you would do with your current marketing process, you want to be able to monitor the success you have of optimization with your existing AI tools. This will help to make sure that the investment you've made into this technology was worthwhile. The good news is a lot of these tools come with their own metrics that relate to how they are performing.


AI with Digital Marketing isn't just about replacing the creative part
The actual content is still best done by humans. They can currently do a much better job of understanding the nuances of what's trending. Also how to manage SEO and other marketing strategies.


Remember that AI isn't a magic bullet that will solve all problems. It's a tool that can sort a lot of issues but still requires someone with experience to produce what you need from the digital marketing. You want to look at artificial intelligence as a complimenting solution not a replacement problem solver.


Some things AI cannot easily help with
While you're going down the journey of looking to use AI to ease your digital marketing pains, there are some things that AI can't solve. That is of course working to try to connect you with your user base and expand your existing social media base. No matter how many tools you may have or how many expert digital marketers are on staff there's no harm in getting the right type of increase in your social media channels than through our platform.


With our social media marketing panel, we'll be able to help trickle in new followers to whatever social media platform you're currently using and help to organically grow your numbers. We aren't sending you bot followers that serve no purpose but work to connect you with the right type of individuals ready to absorb your content and product or service, whether you're using AI or not. Feel free to reach out to us to enhance your growth strategy.