Why You Should Start a Podcast (Audio Social Media)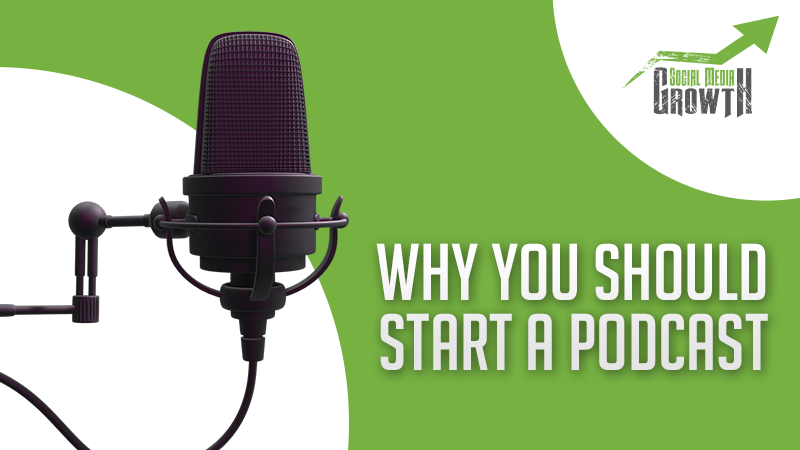 We all know by now just how powerful social media can be in regards to growing an engaged community and having that community help with new lead generation and eventual revenue growth. Yet there's a resurgence happening in the world of audio social media, specifically podcasts. Podcasts have become a mainstream way of creating content and building out an engaged community.


It's a way of being able to provide consistent content for your community to absorb in an episodic format that's able to be accessible by many types of devices. You can also use podcasts to provide engaging content to your listeners and have them subscribe to your podcast channel, getting notified whenever a new podcast is out.


Your listeners tend to be some of the more active and loyal users as they tune in regularly to hear your content and see which guests will be available on your podcast show for the week (or whenever new content ends up being produced). But, of course, taking the time to listen to your podcast and hearing what you'll have to say comes only from those truly interested in what you have to say, so in other words, they are quite big fans as well.


There are also now ways to be completely engaged with the Podcast host and their guests, with certain social media platforms such as Twitter Spaces or Clubhouse. These allow the involved community to listen to the podcast live and communicate with each other, growing a stronger community with each new podcast.


You'll grow in new areas
Podcast demographics tend to differ from other social media platforms, meaning you'll typically get a whole new subset of your preferred audience and demographic. That means a bigger reach and, thus, a larger pool of leads and revenue growth down the line.


These tend to be people with busier schedules who don't have the time to watch a video or read the latest piece of content. They may be listening to podcasts during a commute or working out. They are also the audience that prefers audiobooks as their form of entertainment versus watching TV or playing video games


This leads to a fresh influx of users, and combined with your social media channel growth, you can typically cross-pollinate between the various platforms.


A voice for your brand
Another key reason to have a podcast is people can focus on what you have to say and hear your voice. This helps you develop a brand that's both your own personal one while also building out your thought leadership and professional branding. In addition, you can become an authority on a topic and eventually grow that authority by bringing in guest speakers to have interviews with and increase the credibility of your podcasts.


While thought leadership is one key area, it also helps to build your authenticity in your branding as you'll have a platform where you can share personal triumphs, tragic encounters, and really any type of story that will connect you with those that have similar interests to you.


Growing your digital presence
Eventually, you will see an uptick in your community growth and community engagement with your products and services. But, of course, that means more leads and sales that can come from your newfound funnel, which is podcasting.


You'll gain revenues by being able to push your products or services directly to interested listeners already who are already engaged and have loyalty and trust in your brand. You can also work to attract advertisement to your podcasting and sponsorships when you start to reach a certain audience that regularly listens in on your podcasts.


Easy to Start
Setting up a podcast for the very first time doesn't require more than some basic microphone and recording software where you can handle some editing. Of course, you also can record from wherever you want to. Still, eventually, you'll want to go down the route of getting better acoustics, where you record your podcast and focus on refining the sound quality of the content that you've created.


Yet the barrier to entry is still low and can be an excellent type of content to include in your overall social media campaign and strategy. There are plenty of platforms out there that can help bring a level of quality and professionalism to your podcasts, as well as help distribute them, allowing you to focus on what's most important, providing top-quality content for your listeners.


Don't forget to get help when needed


While growing your podcasting tribe can happen over time, you may always want to consider using a social media management tool with your social media channels, which helps to get that unique audience to your podcasts. Then, of course, you'll be able to share your audio content through your various social media platforms, but if there isn't much of an audience there ready to hear it, it may take a lot longer to get that stable community.


When you consider utilizing our platform, you'll get yourself the right type of spark and growth in your users and community that will bring more to not only engage on your social media platforms but also to listen to those podcasts, as well as eventually subscribe to them and all your channels.