The Continued Expansion of Social Commerce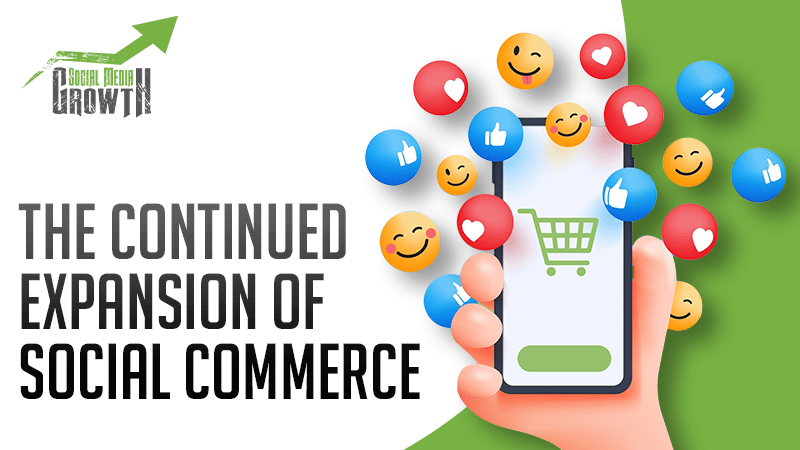 Social Commerce is still a trend that is growing rapidly. Expected sales are to gross over $1 trillion in just a couple of years globally. So for those who don't fully know what social commerce is it's the combination of eCommerce and social media platforms. The popularity and rapid adoption of social commerce comes from a few key factors that have supported this trend.
Keep in mind that this is a type of trend that looks to be heading towards mainstream adoption. It could one day completely replace the need for eCommerce sites.
What helped Social Commerce become so popular?
It all starts with the sheer numbers of people on social media channels and the amount of time spent on there. There are already billions on these platforms and that number will continue to grow yearly.
Beyond having such a massive audience it's also quite convenient. That's because of the fact that we're already on these platforms. Hence, shopping on them only comes naturally without the need to get off the platforms and go to a different site.
These sites are also extremely mobile friendly and enable us to shop with our smartphones. So now we're essentially able to shop anywhere, anytime, as long as we have our phones on us.
Additional benefits that come from Social Commerce
For the consumers
Going beyond total access and convenience, a major benefit is the personalization factor that comes from being on social media platforms. That's because these channels collect a massive amount of data about us individually. This allows a catered approach to shopping where we're much more likely going to resonate with an advertisement about a product.
This is enhanced by the rise of the social media influencer that brings a level of authenticity through their personal and humble reviews of products. They also tend to test these out live for their viewership. This means instead of having to try before you buy, we can have the influencers do that for us. This only helps us further make an informed and unbiased decision.
Besides getting advice from social media influencers it also helps foster a sense of a digital community. With this users are able to share their experiences with the product. This allows social proofing to occur. These types of experiences and reviews tend to point out unique issues that may or may not be a dealbreaker for you but you will know in advance.
For businesses
It helps businesses have yet another touchpoint with the consumer and thus increase reach with an already engaged audience. Since the company is already on social media platforms, it will also help to improve overall brand awareness. Also engagement with the consumer, so if there are any issues to be rectified, they can be done quickly and in a public forum. This is essentially having the customers themselves answer any questions.
This will ultimately lead to a more intimate and convenient shopping experience that will help to increase sales. This is because the consumer can be engaged and shop at the same time.
It also assists when it comes to cost savings and ramp-up time. As long as the business dedicates itself to developing its social media presence, then the platforms come already built-in with multiple tools to help enhance social commerce. They also provide metrics and reporting where needed. This means businesses won't have to invest in building these types of platforms or eCommerce sites themselves.
What the future holds for Social Commerce
It's only trending in a positive direction as more businesses and consumers adopt social commerce as the standard online shopping method. With that said, we'll most likely start to see more live commerce happening. This is where live streams that typically were used to showcase products and services to the user base are also selling these products through the interactive medium.
We will also start to see the rise of new payment methods. Ones that have the right balance of security and convenience to enable streamlined purchases. These could have syncing similarly to in-app purchases that we are familiar with on the Google Play or iTunes App Store and include even direct peer-to-peer payment models as well.
We will also see more globalized access as social commerce breaks into newer markets and solidifies its foothold. This is especially true in emerging markets that have seen exponential growth in both the usage of smartphones and social media platforms. These markets help to provide a new kind of access.
Make sure that you are growing your social media presence
No matter how wonderful social commerce may appear to be, it really needs a healthy growth of your overall social media presence. Since most people gear themselves towards these platforms, and start relying less and less on individual eCommerce sites, having a focused social media growth strategy is critical.
If you find yourself lacking in this area or feel that you've tried everything to increase your followers and subscribers but still find yourself lacking in growth and engagement, then you should definitely consider our social media marketing platform.
Our products can have implementation on a wide variety of social media platforms, which helps you to take advantage of the popularity of social commerce by having the right type of consistent organic growth. You can take a look here and get started whenever you're ready to improve your reach.