A Guide To Growing Your Social Media Presence The Right Way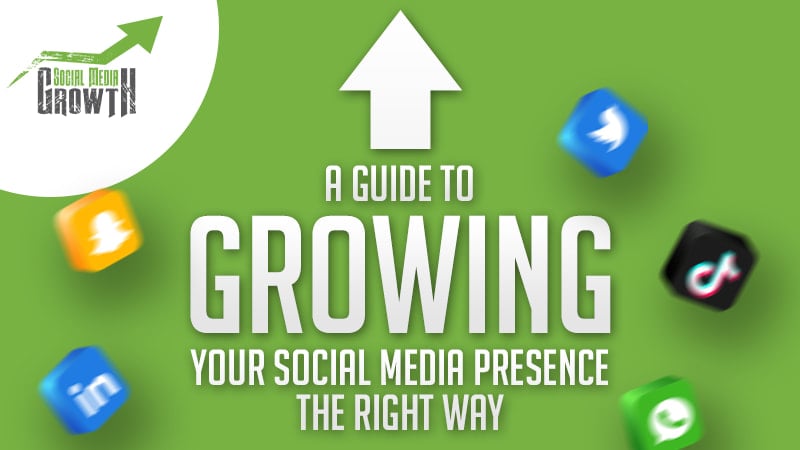 Many people believe that all it takes for social media to grow is simply posting some images and letting the system do the rest. In fact, it's quite the opposite and requires a lot of effort to develop your social media presence and maintain those levels you have achieved. Understanding what goes into it at the start can help save a lot of frustration, time, and ultimately money when building out your social media presence.


Have a plan for your social media presence
The first place to start is to know what your plan will be with social media. Are you going to use it primarily as a way for customers to reach out to you and set up a customer support team?


Is it going to be your primary website to promote your product and brand, or do you feel like it'll be a nice to have when it comes to your overall marketing strategy? Regardless, knowing how much weight you're going to put on it will help shape the tone and consistency.


Be prepared to spend some resources on the channels you select as well. Speaking of channels, you want to make sure that you find the right ones relevant to your business. You do not want to be on every social media channel at once, as that will spread your limited resources too thin and will not allow you to focus and grow your social media presence. This means at the onset; you really should only pick one or two channels at the most.


Part of your planning will be which channels you want to select. For example, if you're into product branding and imagery, then you want to consider setting up Twitter. On the other hand, if you're doing something like being a yoga instructor, or wellness coach, then you want to consider YouTube, as it's built better for videos to showcase your skill set and your product overall.


Then it's all about dedicating a set budget for your social media activity. While you can post everything yourself and generate all the content yourself, you will start to realize early on just how much content you'll need and that you'll be better off with outside or professional help to generate the required amount of content. Content is one thing, and so is pushing advertising to grow your brand awareness and ultimately obtain those followers, likes, or subscribers.


Consistency is key with your social media presence
You're going to hear this a lot, but the content flow really does need to be consistent. You want to be able to drop new content on a set schedule weekly, and a lot of it. We're talking three to five times per week, depending on your brand and how fast you want to grow your content. It's not about posting three times in one day but having that consistent distribution coming out evenly.


Part of the consistency is the content you're placing out there. You want to make sure you have the same imagery and color style with each post. It's like brand guidelines for social media. The same goes if you're going to work with YouTube, to work with custom thumbnails that help show this is a video for your company. If you're going on Twitter, you want to ensure you fully maximize each post's limitations and the power of re-posting and properly hashtagging everything.


All of this makes your social media more methodical and practical than simply posting something on a whim. That consistency will pay off, and before you know it, you'll start to see the growth you didn't think was possible.


Engage with your users
One area we forget about in social media is engagement with the user. That's what it's all about. Reply to posts, re-post something relevant on your site, follow like-minded individuals or businesses, and always make sure to reply to any private messages directly to you.


Social media has helped many companies and individuals by showcasing their authenticity, which has been a breath of digital fresh air in a constantly maskless world trying to push a product on consumers.


That's why you not only want to have a plan and post consistently but also make sure to engage when you start growing your digital online community. Otherwise, it will seem as if your page is 'dead' and that there's no way for users to be able to reach the owners or founders of the business in general.


Engage with the right tools
Another great way to get yourself ahead of the game is to work with the right type of social media tools that will help boost your engagement, followers, and subscribers. The traditional way of doing this would be to set aside some funds for advertising on these social media sites. That can work in some cases, but it's never a strong direction to go with.


Instead, you may want to consider using our SMM panel, which will help you get a boost to specific social media channels. What you're doing is paying for the user engagement and growth, and depending on the channel and how much you pay, it can get you a set amount of social media growth.


It's simple to start, and we always recommend starting with a small budget, just so you're able to get a teaser of what type of growth to expect. Consider using our platform in tandem with the strategies above for a well-rounded strategy.