Can I Expand My Social Media Presence Without Professional Support?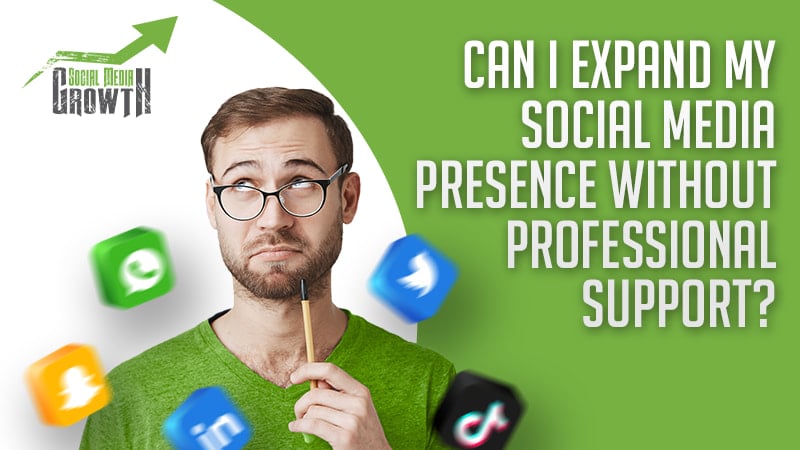 There's a good chance that it would be for business-related purposes if you're looking to grow your social media presence professionally. That is inclusive, even if that business is being an influencer on social media. You need to be able to focus on the core elements of running a business and working ultimately to generate revenues. That's the whole point of a business.


Yet if you're focusing on every aspect and aren't seeking professional help in many areas, then everything will move, but it will carry a lot more slowly. So whether it's the need to hire an accountant or even a social media professional, you'll want to distribute the work as much as possible.


Why can't I do social media on my own?
Many believe that since social media channels were initially meant for personal usage when switching over to the business side of things, it shouldn't be difficult, right? Well, it is like running a business; these channels need their own operations. Therefore, when switching over or creating a business account on social media channels, there are a lot more features and functions to consider.


This is similar across the board, whether it's Twitter, TikTok, or YouTube. Then if you're looking to build up communities on alternate channels such as Discord, you'll need to have that consistent presence when it comes to managing the community.


Running a social media channel, regardless of the core business, is a 24/7 operation. Working with professionals will help ensure that queries get answered at an appropriate pace and that the community is engaged.


Besides engagement, what can professionals help out with?
Content creation is a major part of a growing social media presence. Whether it's writing blogs, generating graphics, or producing videos, it can be never-ending. Finding the time to make all this content and run a business can be a big task.


Plus, those that handle the content creation themselves are subject matter experts in their field, meaning they're able to produce the content much better and faster.


Understanding metrics and targeting
Another area where professionals can be extremely helpful in narrowing down and focusing the social media channels for the highest impact. Wasted content is frustrating and costs money that essentially is thrown to the digital marketing winds. This can easily be avoided when it comes to working with professionals who know how to find your target market, focus on a target audience, and understand how to read the metrics and data.


The data analysis is key as it'll show you who is interested in being a part of your community and how they technically engage with your social media, connect with your sites, and, ultimately, your brand and product. However, it's also a lot of data points that, while you should be able to look at them and analyze them yourself, can be left to the professionals who can take the appropriate actions based on the data.


What if I still want to go it alone?
There are some benefits if you decide to handle the inner workings of a social media channel or two. The first thing is you'll learn a lot. You can be educated on everything from how to produce the right type of engaging content to consumer behavior to becoming a completely data-driven business by running your own social media channel. It may take some additional time, but you will be a much better owner for it.


Plus, when it comes to user engagement, the best type of authenticity is when the owner and founder are able to join in on the attention, do live streaming AMA videos, and generally be reachable by the larger consumer base that is interested. All of that is possible and can become manageable once you're able to understand key social media terms and the features that come with each channel.


On top of that, you'll be able to save a lot of money if you're able to find the time to handle everything. That's the price, time, that's paid, and the extra time needed to go through all the different trial and error phases that may come up. This can be daunting in itself as you try to figure out what to do to hit each milestone, whether it's the first 100 or 10,000 followers or subscribers.


In the end


Finding that right balance between working with professionals and understanding how one of your biggest marketing channels is what makes you a good business person. It will take patience, and sometimes it may feel as if the needle isn't moving at all and your social media channels aren't growing at the rate you need them to.


If that's the case, then you may want to consider working with a professional SMM panel. This is another professional type option in your arsenal of social media support you're able to obtain. This is a much more direct way of actually growing and boosting your social media presence. As long as you're generating content and engagement, or your professional social media team is, an SMM panel will enhance and stir the growth of your followers, engagement, or subscribers much faster.


It's a great way to give your channels that focused boost to get you on your next milestone that can help cascade your social media channels to start working for you better.