What Are The 5 Critical Components Of An Excellent Digital Marketing Strategy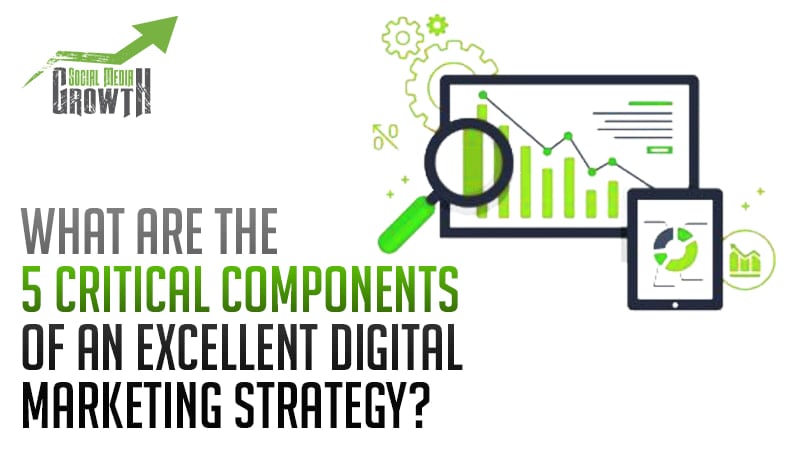 There's a lot of focus on social media as a core marketing strategy. Yet it is one piece of many that will help to develop a holistic approach that will build brand awareness, send traffic to your site and sales channels, grow your digital community and eventually lead to conversions that will be sales and make revenues.


There are five key prongs to the digital marketing approach, and it's not about doing some of them, but it's about doing all of them in tandem to get the maximum effect.


Start SEO Early in your Digital Marketing Strategy
SEO stands for search engine optimization. This is where your site gets picked up because it has certain keywords and within its pages, and the search engine sees your site in a position of authority and relevance. Yet it's primarily text-based, meaning you're going to have to generate a lot of content to build that domain authority and maintain the relevance down the line.


SEO requires some upfront work and requires around three to six months of consistently updating the metatags on the site while at the same time producing content that's consistent and SEO friendly.


It may seem as if this bears the least amount of fruit, when in reality, having an SEO-friendly site will bring you the most organic traffic to your site at no cost to you (save the meta tagging and content creation). This is because users are actively seeking out something that you have on your site, meaning that once they find your site and your product, they are much more likely to engage with the site and obtain the product.


Email Marketing is still strong for your Digital Marketing Strategy
While you're building up your web presence, you want to be proactive and reach out to your consumer base. You always want every interaction with your customers to confirm that they've signed up for email notifications. This then allows you to use powerful email marketing tools to keep your business (and products and services) top of mind to your customers. You can use these as communication when items go on sale, when new products arrive, or general updates about the company in general.


With the right types of email marketing tools, you can easily segment your emails and drill down even further, offering personalized experiences that will lead to better click-through rates and conversion rates.


Advertise smart
Advertising, whether on social media channels or through Google AdWords, still plays a strong part in your early days of growing your digital branding. Just like SEO, it's about consistency and focusing on the right keywords relevant to your overall company and product suite. Be cautious, though, and always make sure to put limits on your advertising spend, especially with common keywords, as this can get quite expensive.


Always make sure that when you go down this route, you want to focus on brand awareness and new customer acquisition. Here, you want to constantly review the data of the campaigns and see which ones were stronger than others so that you can make the right data-driven adjustments for future advertisement campaigns with better results.


Affiliate / Influencer marketing
Here you're working with promoters who help to push your products or services within their own digital villages. Think of this as getting access to a subset of customers that may be interested in your products and having a relatable and trustworthy spokesperson represent these customers and recommend your brand to them.


This is also one of the most straightforward marketing strategies to track, as you're able to easily make affiliate links that can track just how many people clicked on those links and the number of sales that were generated because of it.


All this ends up costing you in many cases is a percentage of the sale, meaning you get to generate revenues before paying out in many cases. This is also a great approach to working with multiple influencers, from micro to mega-sized influencers, as this will reach a more varied demographic for your products.


Social Media Channels should be focused on
We round up the list of critical components with a reiteration that social media is still relevant. In fact, for many, it becomes the major destination for loyal customers who are dedicated to the brand, to engage with the brand and the community, and see what's happening next with the company and brand in general. Yet it requires the digital awareness and presence that the prior four components above bring.


So this is the final step to get them to follow or subscribe to you, and that means these consumers who were still deciding have made the active decision to become a promoter themselves.


While all five elements above work best to create a multi-pronged marketing strategy, that doesn't mean there aren't methods to speed up the process. First, it's always a good idea to find specialists in each of these fields to work smarter and be more cost-effective as you grow your digital presence.


Then you also may want to consider working with an SMM panel to give your social media a jump start or develop to a new massive milestone. Our SMM panel works with various social media channels, and we're confident that we've got your specific channels covered.


You'll be sure to boost your presence and conversion rates when using the SMM panel in tandem with these five core strategies and channels.