Do I need a website? Or is social media enough?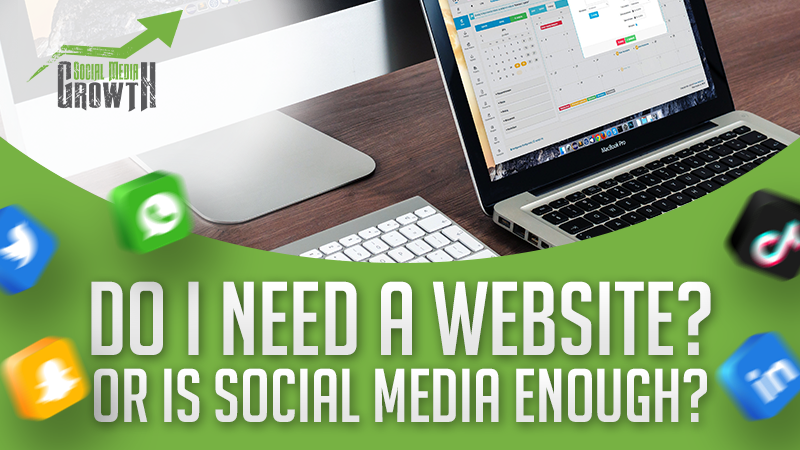 In the recent past, a digital marketing strategy would include having a centralized location for all of your marketing channels and strategies. That would typically be a company website to bring everything together. Yet as social media channels continue to become more sophisticated with how you're able to present your business, it has businesses ask, do I need a website still? Especially as more social media channels are also becoming eCommerce and sales channels?
The answer is a bit divided. It really depends on your focus and overall budget when it comes to marketing.
Do I need a website? The Benefits of a Website
Having a website is still showing a sign of professionalism for your business. It helps with credibility and building trust with your clients. It also allows you to have total control over the structure, design, content, and functions of the site. You are free to do as you wish, and you own your domain, akin to a permanent online address.
Websites also have more flexibility on what they can offer for your business based on your needs. For example, you can incorporate lead generation through landing pages. Also, eCommerce functionality for your products, content marketing for thought leadership, and so on. As you scale your overall business, these features can be expanded upon, such as wholesale functionality for your eCommerce business.
On top of that, a slew of tools can be used to track how visitors travel through your site. Also where they bounce out, and even digital heat maps of the most popular parts of your site. This type of insight helps provide the necessary intel to make improvements and enhancements to the user experience where necessary.
Benefits of Social Media
It's a much simpler implementation and free to sign up for. Of course, there are some subscription services and advertising spending to consider, but day-one usage is typically free. On top of that, you'll have a much wider reach through these social media platforms. This is because they already host a huge user base that your business can access. Through their intuitive advertising and features, you're able to directly engage with the consumer through the platform. This helps to build up those relationships and take them to the next level.
You can grow a digital community online, where every time you post, comment or share something new, your audience is waiting and will see it, and it will only enhance the user base. In addition, since it's a centralized platform, your user base will go more often to a social media platform versus your website to get updates on the latest information and trends out there.
You can also specifically target your core demographic and audience that share similar interests and behaviors concerning your brand. That helps you start off with a large 'lead' list and easily and cost-effectively narrow it down to those users most likely to use your product or service.
Some considerations to take with you when you're asking "Do I need a website?"
It all depends on what your core focus is going to be. You may be just beginning and want to see what the market feels like regarding your idea, brand, product, or service. In that case, social media can help be that heatmap to see what type of interest it is.
It also can make sense when budgets are tight, and you don't have the expertise to build out your site completely from the ground up. As long as you're more focused on outreach versus control and design, then social media platforms can make excellent replacements for having a website, and you'll be able to still actively grow and manage your community from there.
In addition, you can always add ancillary services on your social media pages. These help provide a link for people to email you, message you, or even purchase your products directly. Social media platforms continue to expand as business hubs, which has even raised the question of the need for websites.
In the end
Regardless, eventually, you will want to have a website because it still ends up being your main professional site and shows that you're serious about growing your business, brand, and products or services. It may seem right to start with your social media, but eventually, just having a templated website with business contact information and a place to hold links can go a long way in whatever industry you may be in.
Yet it's less about website versus social media and more about how to gain traffic. With a website, you're looking at the entire internet, including social media channels, to get those eyes on your site, which can mean a total reach. But also, at the same time, it can take a while to get people to even find your one site out of many. With social media, you already have that engaged user base ready to find you and engage even further.
Yet even with that, your competitors and other businesses are vying for the attention of those users as well. This means that if you want to give yourself a compounding edge when it comes to social media reach and growth, you may want to consider using our social media management tool. It can help work with budgets of any size to maximize your user base. Feel free to try out our options for your current social media channels here, and you'll be thrilled with the outcomes.