Holidays to help save with your social media performances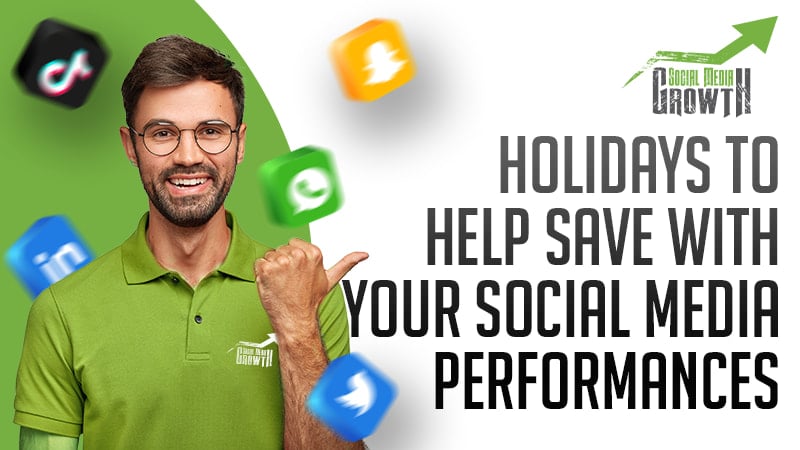 The holiday season is upon us with a Halloween Sale that comes directly from us at The Social Media Growth. It's vital to take advantage of our services at this time as we will be discounting many of them. Therefore those that were always on the fence about it can be more ready to go and try us out. You'll be glad you did as you see your social media channels start growing organically and exponentially.

Why social media is such a critical component to a business

The way digital marketing is focused these days is how big everyone's digital community is. Once someone starts to follow a brand or company's social media channel, it becomes part of the mix of updates that users get, which shows what is new from that brand. It's become the primary standard to get users interested and engaged while ultimately leading to more sales when new products come out or when big deals are ready to go.

Either way, social media marketing works well because it's always an opt-in solution in many cases. We, as users, have the choice to follow, subscribe or get notifications from these social media channels because we want to be able to see what the updates from the business are. That means the users on social media are already heavily vested and engaged compared to other types of marketing strategies that may not be as strong as social media.

Also, once certain levels are hit, it helps to organically grow those social media channels from tens of thousands to hundreds of thousands and eventually to millions of eyes on that social media channel. Organically here means that it comes from word of mouth and has a compounding effect of existing users promoting the brand to their own close networks, who then, in turn, continue the recommendations, and that's how organic growth becomes exponential growth.

Why it's so hard to cross that threshold

When many businesses start social media channels, the follower levels always seem to be such a grind. Social media channels, while effective with enough followers, and momentum, require extensive efforts to grow the number of followers and subscribers to these channels. Efforts to promote items and the brand seem to happen as often as efforts to gain new followers. After every interaction, you'll subtly notice being asked to follow the brand's social media channels. Whether you make a purchase online or offline or simply are looking at one of their posts.

The more traditional method of gaining followers, besides consistently requesting it from every pair of eyes that comes across the way, is through digital marketing advertising, which has a similar effect. See the advertisement enough times, and you may show interest enough to check out the social media page and consume more information about the brand. Eventually, if you and the brand align, you can decide to follow the social media channel.

These efforts are time and resource-consuming and don't always guarantee a sale from additional followers, likes, or comments, as it only enhances the social media profile, not necessarily purchase. There's nothing worse than the lack of guarantees and extensive efforts being put into it.

What's the alternative to social media channels for marketing?

Unfortunately, other digital marketing channels may not be as relevant as most of the consumer base switches over to getting their information and making their decisions on social media platforms.

In addition, it's more than just specifically tied down to one channel, as it can vary on the type of audience you're looking for. That means, as a brand, you cannot simply open up a social media account on each platform and simultaneously try to grow all those communities. It won't be efficient, and you will need extensive staff to manage all the channel communication and create content and materials to distribute through all these channels.

A tighter focus on specific channels from the get-go will help the brand along the way. Whether it's Twitter, YouTube, or Discord, each one of these channels has its own target audience and market characteristics.

You need to ensure that your brand makes sense on that platform. For example, Twitter works well with cryptocurrency or blockchain-based companies. YouTube works well with travel or financial companies. While these categories aren't set in stone, having that focus with only one or two channels is important.

How we can help

We understand the power of social media channel growth and how it can help your business. We don't want you thinking about other forms of digital marketing as an alternative to growing your social media channel, and in fact, you should be working with multiple digital marketing strategies in tandem to grow your overall digital presence. For those needing help with getting their social media channels to grow at the right pace, you should definitely consider using us this holiday season.

Our social media platform is known to boost growth organically and jumpstart your social media channel(s) of choice, with trackable results to ensure that everything is working. The holiday season simply means you can work with this powerful service even faster, as the price points will be at a discount. That means you can buy into larger packages or use this as an opportunity to see what we're all about.