Is it smart to market in a recession?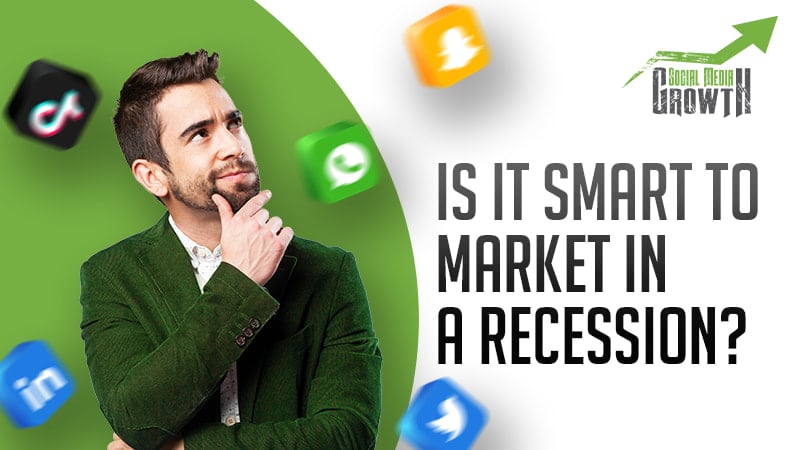 We may be seeing more and more news about a recession coming our way and a lot of misinformation about what that may mean. Many of us are bracing for the worst-case scenario and thinking that business will grind down to a halt. But, it is important to understand what a recession is and how it will affect you. This way, you'll be aware of where to place your marketing funds and target people and be ready for when the economy gets stronger.
What is a recession exactly?
While there are many definitions, a recession itself is basically when the economy has slowed down that the growth is below expectations, and eventually, there is negative growth. This can happen for two consecutive quarters that people tend to follow, or it can be a year of this. Either way, economies start to shrink, and that's because businesses are selling less. So whether you're a small, medium, or enterprise-level company, there's a good chance you'll also be affected by a recession.
What it doesn't mean is that everything comes to a standstill. While it may be tough, it's also not permanent. Recessions are inevitable, and if we don't have them periodically, then we can accidentally grow the economies so fast they fall back down into a depression, which can be a total shutdown of the economy and something we want to avoid at all costs. The best thing we can do is be aware of them, know they will end, and prepare our businesses around them.
Recessions primarily happen when economies tend to overheat, and too much inflation and growth eventually become unsustainable and pops. So what the world governments are doing is raising the price of money by raising interest rates to try to slow down the growth to comfortable levels and avoid any economic explosion. Yet many still fear that it could be too little too late and that the interest rates will not stem the oncoming recession.
What can be done to prepare for it?
One avenue many people believe in going down during a recession is to cut down all unnecessary costs. Many tend to point towards marketing in the first place because they feel as if they won't bring new customers anyway, as everyone has tighter budgets to make fewer purchases regardless. It is true that it is an excellent time to optimize the entire operation and not just focus on marketing. In fact, the most advised thing to do right now is a marketing audit to see where the optimization can begin.
A marketing audit is the name for a review of the performance of all your current marketing channels, intending to see what works and doesn't. It's a chance to refine the overall budget, and if it seems you're able to produce the same output with fewer resources, then so be it, and you can proceed accordingly. This should be done regardless of a recession looming over the horizon, as businesses should always be focused on a healthy bottom line and a strong margin at all times.
Why marketing budgets should not be cut during a recession
While it may be a great idea to scale back during a recession from a total business standpoint, it's important to take a moment and understand how digital marketing works in general. There's a momentum behind it that means the money, energy, time, and other resources spent on it helped to grow a certain type of audience. It needs to be consistently maintained, and without those resources to maintain it, you'll end up exiting the recession with a weaker audience and not be able to take advantage of the boom once it comes back.
That's because you'll be starting from the beginning or from a lower place than you were before and that's why you'll never want to completely shut down your marketing. Of course, there are some places of your marketing you'll want to reduce, such as advertisements, but items such as SEO marketing or social media growth need to continue onwards.
In fact, focusing on social media is a great thing to do during a recession as more people may head to those environments, as they did during the pandemic itself. That means it's a great time to refocus your attention on growing your user base on the right social media channels. This means increasing engagement, content, and relevance to the channels. Then your business will have a strong digital community it can take advantage of when the recession ends, and it's time to start pushing sales harder than ever.
Don't forget to use the right tools
You may have finished reading this and asked yourself if you even have a social media page. You'll check it and maybe find out it's lackluster and not getting the traction it needs to build. That simply means you'll need to give your social media a bit of a boost to help organically grow your audience. A great way to start this growth is to work with the right type of SMM panels that can increase quality audience quickly and jumpstart your social media growth, which can be nurtured regardless of recession or not.