Key Social Media Terms To Understand With Your Next Campaign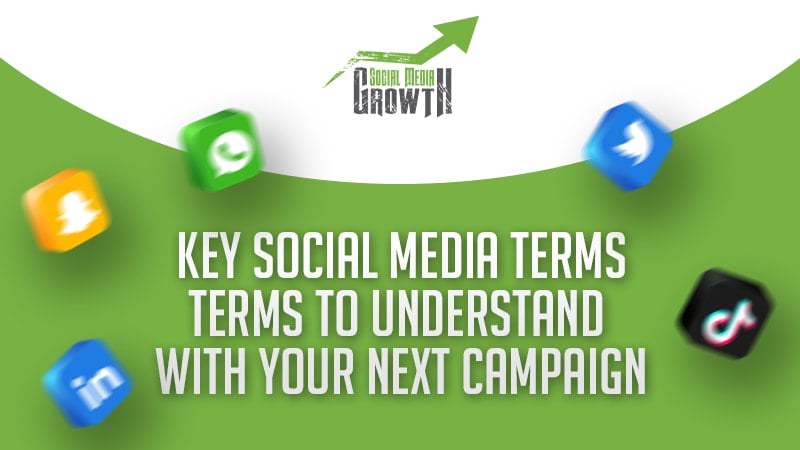 Anyone who's entering the social media domain needs to understand there are a few key terms to understand. While the list below is an excellent start, it is by no means a comprehensive list. Yet when you get a thorough understanding of this as you read on, you'll be able to start seeing better results with your social media campaigns.
A/B testing – This testing measures two (or more) social media posts at the same time. The aim is to see which one performed and why. Again, the differences are minimal, with either different colors/fonts being used or separate calls to action.
Analytics – Here, we're looking at all the data points we receive from our posts and analyzing these datasets to help how to focus future campaigns. These analytics will tell us demographic and regional information and start to help shape what a target audience can look like.
Blog – the core content that's being created is going to be written content that goes into blogs. This is shortened from weblogs. It has since expanded into videos and, at times, can be referenced as vlogs. This is what will be a key component in driving organic traffic to your site.
Clickthrough Rate - This is calculated by the number of users that see your social media post versus how many clicks on that post only. This is a core metric to measure to see how much activity your posts on social media are bringing in.
Conversion Rate – This is like a click-through rate, but it takes action a step further. This is to see the number of users who see a social media post or advertisement, click on it, and complete the call to action or CTA. This CTA can be a purchase made, a registration completed, or even just downloading more information from the site.
Engagement – This is another metric that's being tracked more and more. It's not just about paid promotional advertising but on every post on social media. How many users actively engage with the content, which can include liking it, commenting on it, or sharing the post with others. This helps to show the overall community engagement you have on social media compared to the actual followers or subscribers you may have.
Impressions – This is one of the first metrics you'll end up encountering on your social media journey. This is how many people have viewed your post. It doesn't gauge how many people take action, click on the post, or even engage with it; it's just how many people have put their eyes on it. This can help show your social media reach, which can be compounded when your content is shared with others, as that viewership will also count to your impressions.
Hashtag – These are the words that follow the hashtag or # symbol. These are critical in social media posts as this is what the systematic algorithm picks up and helps promote throughout the social media sea. Understanding the right type of hashtags and trending hashtags can help a post truly shine.
KPI – This is your overall tracking metrics for your marketing and business goals. This is known as Key Performance Indicators and is a rolling metric that is consistently updated with fresh data. This can track your different metrics, such as click-through rate, conversion rate, levels of engagement, and other actions.
It can also sync up these data points with call-to-action metrics, especially related to registration and sales. You can have different KPIs for different campaigns or one overall set of KPIs to hit as a company.
Pay Per Click – When it comes to paid search, pay per click (PPC) comes up often. This is the rate that the advertiser will pay every time their sponsored social media post is clicked on.
This doesn't mean that there's any other action necessary, but to be clicked on, and for that, there is a subsequently small charge. Therefore, it's important to budget this appropriately and measure the click-through and conversion rates to ensure it's worthwhile.
ROI – This acronym represents the Return on Investment and is meant to track how successful your campaigns are versus the number of funds put into the campaign for advertising and content creation. You want to ensure that your ROI at the end is positive and that your campaigns and advertisements are leading to revenues, even if it's not always the easiest to track.
Targeting – In social media, this is one of the strongest tools out there. As you start to understand the target audience for your brand, you'll want to focus your social media advertising in those areas only as a way to focus the campaign, conserve funds, and ultimately improve both your ROI and KPIs.
Viral – This is where your social media posting blows up on the social media channels without the intention to do so. This is where the impressions, reposts, and conversion rates all surpass the intended initial target and beat out all expectations. This snowball effect usually occurs without spending any extra funds, making it one of the most sought-after possibilities in social media marketing.
In the end
These are some of the core social media terms to focus on throughout your social media marketing journey. They help to let you know the health of your social media platform and how engaged your users are with how helpful your marketing campaigns have been.