How's digital marketing in 2023 looking?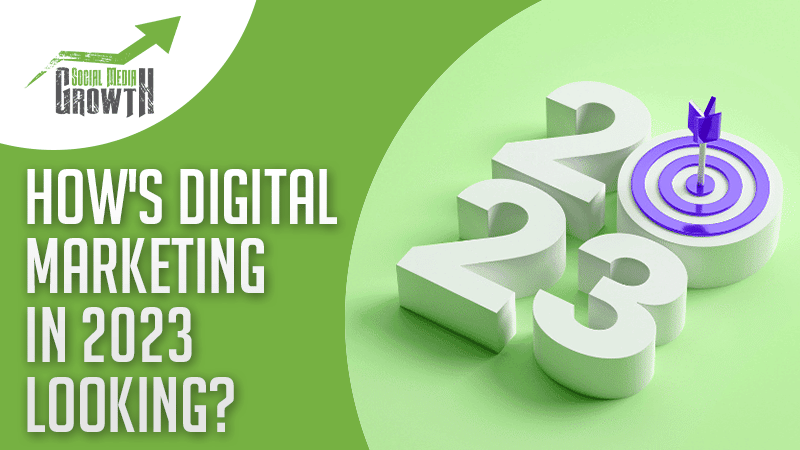 How's digital marketing in 2023 looking?
Digital marketing in 2023 is going to look even more refined as we progress through the year. There's simply so much effort that you need to invest these days to ensure that you're able to capture the eyes of your captive audience.

While also at the same time working to retain those customers for as long as possible. So there are even some areas that may seem surprising as it may seem to go a different trend instead of fully digital.


Data is still at the top of importance for digital marketing in 2023
Marketing and digital marketing have already been a deep data division for quite some time. However, the data sets continue to grow larger and larger. That means there's going to be a need to bring in more adept systems. These include Artificial Intelligence and machine learning, which help with collecting the data to begin with. Then, use these systems to analyze and eventually act on all the proceeding data. That means much more refined campaigns, marketing budgets, and overall performance.


You will see automation here more and more, with those repetitive tasks being programmable instead of using actual marketing members. This can be everything from chatbots to programmatic advertising that scales as much as the business needs its marketing efforts to scale. Again, this helps with a much-improved ROI. This is especially through social media marketing and will overall assist with the company's bottom line.


Personalization is a requirement
While it was a nice to have in the past, personalization continues to be a necessary piece of marketing and the customer journey in general. This is especially the case through the customer onboarding process. The reason is that with a greater emphasis and focus on personalization; there's a greater chance that the customer becomes an advocate themselves for the product or the brand. Of course, this ties into the usage of data mentioned above.


Because of all that data, marketing is able to go from a market segment approach to building out unique personas and individualization with their marketing efforts. To help deliver this type of content, there will be more usage and experimentation with some of the latest technological advancements. Be it in the field of Virtual Reality or Augmented Reality.


Video marketing as the new normal for digital marketing in 2023
Thanks to the likes of certain social media channels, such as TikTok and, subsequently, Instagram Live and YouTube, video content is becoming the go-to medium of choice for marketers. It could be the short form expected on TikTok or long-form options on other channels. Either way, video marketing is there to help companies tell their stories and be more engaged with their customer base.


Social media influencer marketing
The pandemic helped put this type of marketing at the forefront of many businesses and the marketing industry. Once seen as a niche marketing channel that quickly showed how powerful influencer communities were through their engagement, it only made sense that more partnerships would happen with influencers. They help to engage company consumers on a more individual level. This, in turn, helps with brand awareness and drives sales while having that curated and hands-on experience.


A return to offline events for digital marketing in 2023
This was definitely going to make a comeback, and already had towards the end of 2022. Still, the return to an old normal of offline events, meetups, and marketing campaigns in that format is happening as well. This could be a short-term push and drive. However, it also is happening after it seemed as if all events were canceled for the past couple of years. There's a desire to get out there again and explore so those marketing event budgets can start to swell up again. There's going to be a huge demand for these types of events, however small or big, throughout 2023.


As corporate social responsibility has been upgraded by environmental social governance or ESG, it will also be related to how marketing is done as well. That means more consumers are aligning themselves with companies that share the same values on their overall carbon footprint and environmental impact.


Marketing, whether offline or online, will focus on highlighting those parts more this year. This will show that their consumer base is aligned with the right type of company. We'll see marketing efforts showing everything from sustainable material sourcing to how companies help support charitable causes.


Creating experiences and not just pushing product
This is combined partially with the offline events coming back. However, marketing, in general, is transitioning more about getting eyes on the company, with the secondary goal of sales. As a result, expect to see more brand experiences focused on engaging customers. Also, building deeper connections and relationships with those customers.


All of this marketing has a primary focus on the individual. However, that all comes from building out the right types of digital communities in the first place. The best place is to always have a focused social media presence. One that will continue to be necessary for any business going through 2023. Otherwise, the trends mentioned above won't make much sense without that captive audience ready to absorb and see the marketing itself.
Whenever you're ready to boost your existing marketing channels through our social media management tool, this should be a part of your overall 2023 budget. It's meant to help with enhancing your channels and helping them find the audience that was already interested in your product or service. They just needed that extra push to find your company