Social media Checkup – Make sure your strategy is correct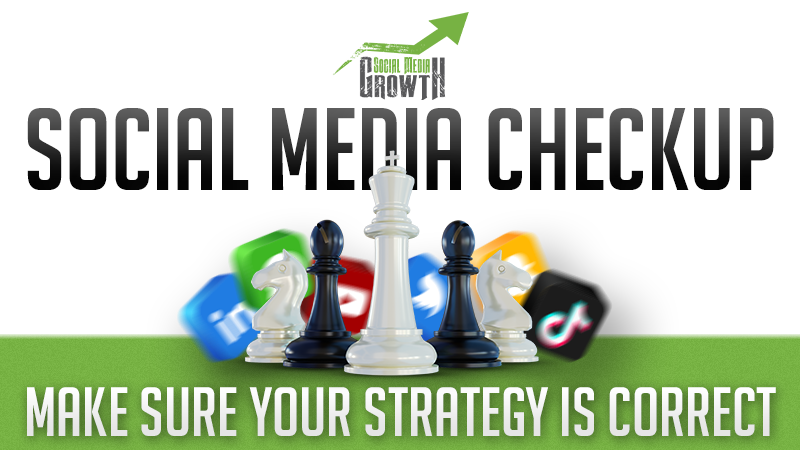 Social media is part of your marketing arsenal and a powerful tool for businesses of all sizes. Yet, at the same time, it can end up becoming overwhelming and time-consuming without the proper management and strategy. Another thing to consider is doing a periodic social media checkup on your strategy. Here you can see if everything is on track. Then, assess and review the performance and make the necessary adjustments that make sense. We'll take a look at some focus areas during your social media checkup.
Social media checkup should start with the overall engagement
Social media is all about growing your digital village and having active engagement from it. So first, take a look at your audience demographics and engagement metrics. Are you targeting the right demographic for your product or service? Or is the data telling you something else? Are you on multiple platforms, but some social media channels resonate better with your target audience and desired engagement levels? This review can help you downsize some social media channels while putting additional resources on those quality channels.
On top of that, you want to look at your overall content performance. What are the click-through rates, likes, shares, comments, and so on? What are your worse performers and top performers? Your top performers will eventually become your guide for your new social media strategy. Therefore, you'll also know what to produce for that future content.
Make sure when you start to analyze your social media channels that you work with analytical tools such as Google Analytics. You want to ensure you are empowered with the right tools to do the proper analysis. Also, to compare it in a uniform capacity, as well as to your own company and brand site, and compare it to the industry.
Review the competition
Often you hear about what to do with your own social media channels. However, you also need to also see what your competition is doing as well. Review their top content with the most engagement, and work on mirroring their efforts. When you want to see what you can start to do better, look at those already doing better. Then refocus your efforts on unique and engaging content to set you ahead of the competition.
Keep it consistent
Maybe you were starting out your social media channels, or you just had a rebranding. When you do your social media checkup, you want to make sure that the brand is consistent on all platforms. Everything from the profile information to cover photos to the bio should be universal. And this should be across your social media channels and platforms.
In addition, your content and tone should also be consistent. If you're being playful on Instagram but then serious on TikTok, it may end up sending the wrong signals to your target audience and consumer base. This is a good time to clean up with older content that may not set the right branding and tone you're trying to capture.
Review your social media ad budgets
Social media advertising is a great way of getting new audiences to give them awareness about your brand, product, or service. Yet you may be at a different stage of your social media channel. For example, you're looking to focus on a specific demographic or target market. Or you need to rethink your social media advertising budget to build more engagement with your already large following and community.
Again, a deep dive into the metrics and conversions will help show the efficacy of your existing social media advertising campaigns. Then you can see if you need to continue down this path or, again, find a way to reallocate those budgets for more meaningful needs on social media channels.
Review your influencer management
If you don't have an influencer strategy budget to review, you can skip this part and go work on getting that budget. Influencers are an excellent way of getting some of the highest quality followers. However, it can sometimes be difficult to track their results. You want to have that reviewed during your social media checkup to see how your social media channels were affected when you were using influencers.
You're looking to review if there were any significant and relevant uptick in new followers, activity, and engagement during those collaborations. Make sure you adjust your targets accordingly and phase out underperforming influencers over those that are hitting your expected targets.
Next steps
After your checkup is done and you're reviewing the results and building out those targets, make sure they will be worthwhile with the efforts and resources behind them. You want to also continue to ensure throughout this that your social media channels, however few or many, are always growing with new followers on top of all the other metrics you're tracking consistently.
The last thing is to do a checkup with only a few hundred or thousand followers, as you want to get to significantly larger numbers. Yet sometimes, just tweaking your strategy or increasing your social media advertising budget may not be enough to increase that follower number and, subsequently, the engagement behind it.
When you end up feeling 'stuck' with your social media endeavors, then you may want to consider working with our social media management options here. They have proven time and time again to help give life to your social media channels. We work with the most popular social media channels relevant to your needs and stand behind our iterative method to grow your metrics. This can eventually help grow your sales. Check us out here if you want that extra kick.